Ragnar Relay Washington D.C.
Ragnar Relay Washington D.C.
Oh Ragnar we meet again! This was my third Ragnar race of the year! I had the pleasure of running Ragnar Trail Richmond along with  Ragnar Trail Appalachians West Virginia, but this was my first road relay race! For those of you who have not heard of this race, Ragnar is the largest relay series in the Unites States consisting of both trail and road relays. Each road relay race is around 200ish miles (320km) and is a two day and one night event. There are ultra teams consisting of 6 runners and regular teams consisting of 12 runners. Each runner on the regular team is responsible for running 3 legs, while the ultra team runs 6 legs. I ran as a regular team.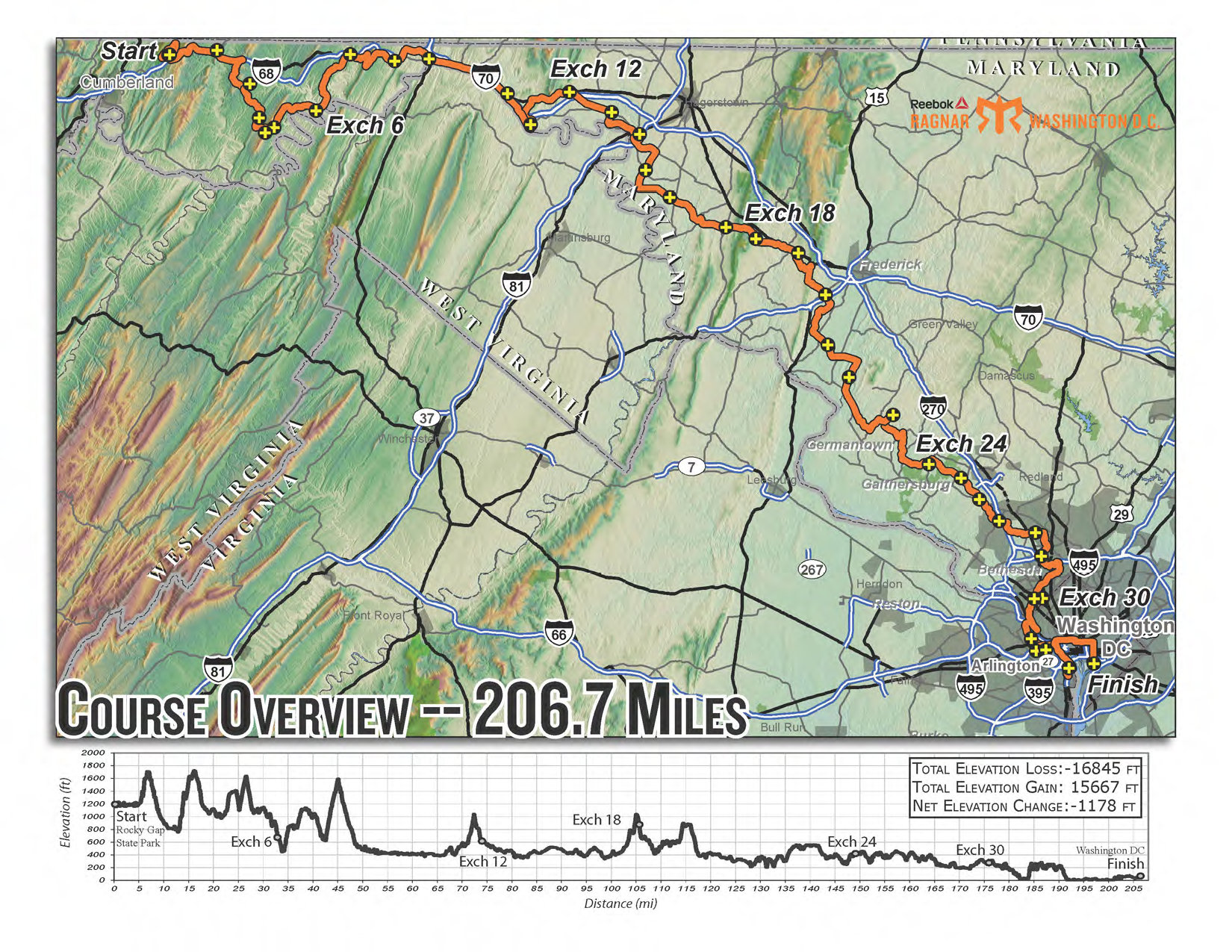 Now how exactly do we run a 200ish mile relay race as a team? It is very strategically planned and well thought out. The course runs from Cumberland, Maryland all the way down to Washington D.C. Teams are divided into two separate vans. The first 6 runners are in Van 1 while runners 7 through 12 are in Van 2. For my team I was runner 8 so I was in Van 2.  You can see the strategic breakdown below.
I had the pleasure of running again with the Fredericksburg chapter of Team Red White and Blue (learn more here: www.teamrwb.org). Van 1 started the course at the beginning in Cumberland, Maryland. Each team runs with a slap bracelet. Runner 1 would start and then hand the slap bracelet off to runner 2 at the next exchange and so forth. Only one van is running at a time, so once Van 1 finishes running their legs they hand off the slap bracelet off to van 2 which is runner 7. This then gives van 1 a chance to rest until the 6 runners in van 2 finishes. Once van 2 finishes it is back to van 1 to begin their 2nd leg and so on (is this making sense!?).
Communication between both vans is key when running this event! Picture above is Van 2. We decorated our Van to keep track of our legs.
Seen above is one of the exchange points.
This was our first exchange point from Van 1 to Van 2 and also where we checked in.
This was my exchange point at my first leg. The 2nd toughest leg in the entire course dubbed, what the hill!? My toughest leg in the entire course!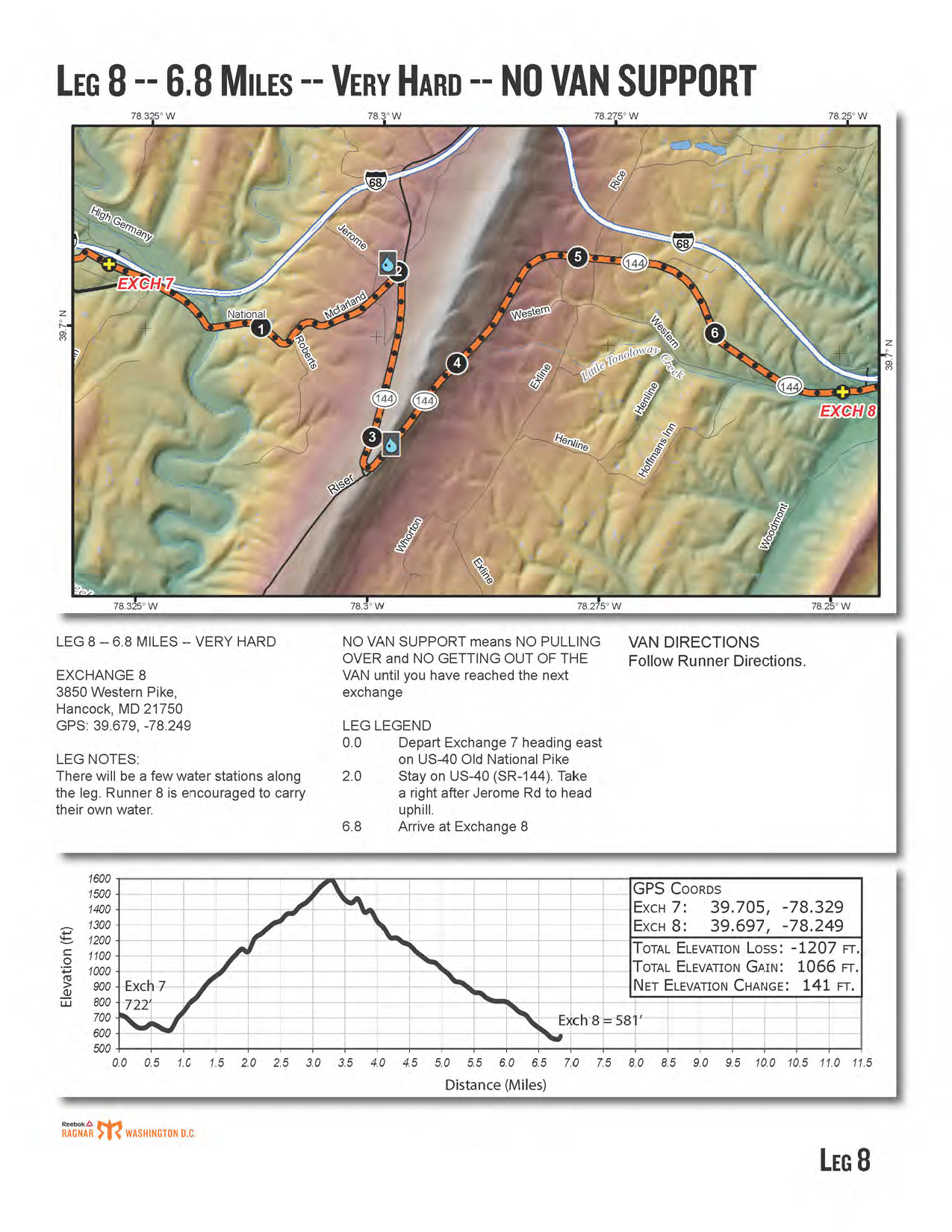 Over 3 miles up a mountain with over 1000 feet in elevation gain! I was the most worried for this leg. I mean, just look at that elevation chart above!
I was too excited to finally start my leg and I'm glad someone was able to capture the moment for me! I am not use to running with water so I took my water bottle with me to be safe since I had no van support. That hill was a bit of a struggle and boy did my calves feel tight! My body was not use to running straight up a steep mountain road and my calves were screaming at me! I had to stop a few times to stretch them out and loosen them up. Once I finally arrived to the top it was nothing but smooth sailing from there! I took advantage of gravity and sped down that mountain and passed so many people! It was quite the adrenaline rush!
We stopped at a dairy farm for dinner and I had some chicken tenders with a chicken fajita. I ended up feeling really sick to my stomach afterwards and had to lay down in the grass for a bit. I couldn't believe how unbelievably bright the moon was that night!
We had a couple hours until our next exchange from Van 1 to Van 2. We attempted to get some sleep that night. Some of my team slept in the van and a few others  and I slept in the grass. When we walked over to the grassy field towards the back of the parking lot, I couldn't believe my eyes when I saw so many people sleeping on the ground! It looked like there were about a 100 people out there! I wish I could have taken a picture of it, but I did not want to wake anyone up with my flash. We made our way towards the back and had to be extra careful not to step on anyone. I pitched my sleeping bag on the ground and had about 3 hours until I had to run again. I definitely did not get any sleep that night with the amount of people moving around and cars driving by, but it was definitely a memorable experience to say the least!
I started my 2nd leg around 3 in the morning. I thankfully had van support for this leg and took full advantage of it so I did not have to carry my water with me this time.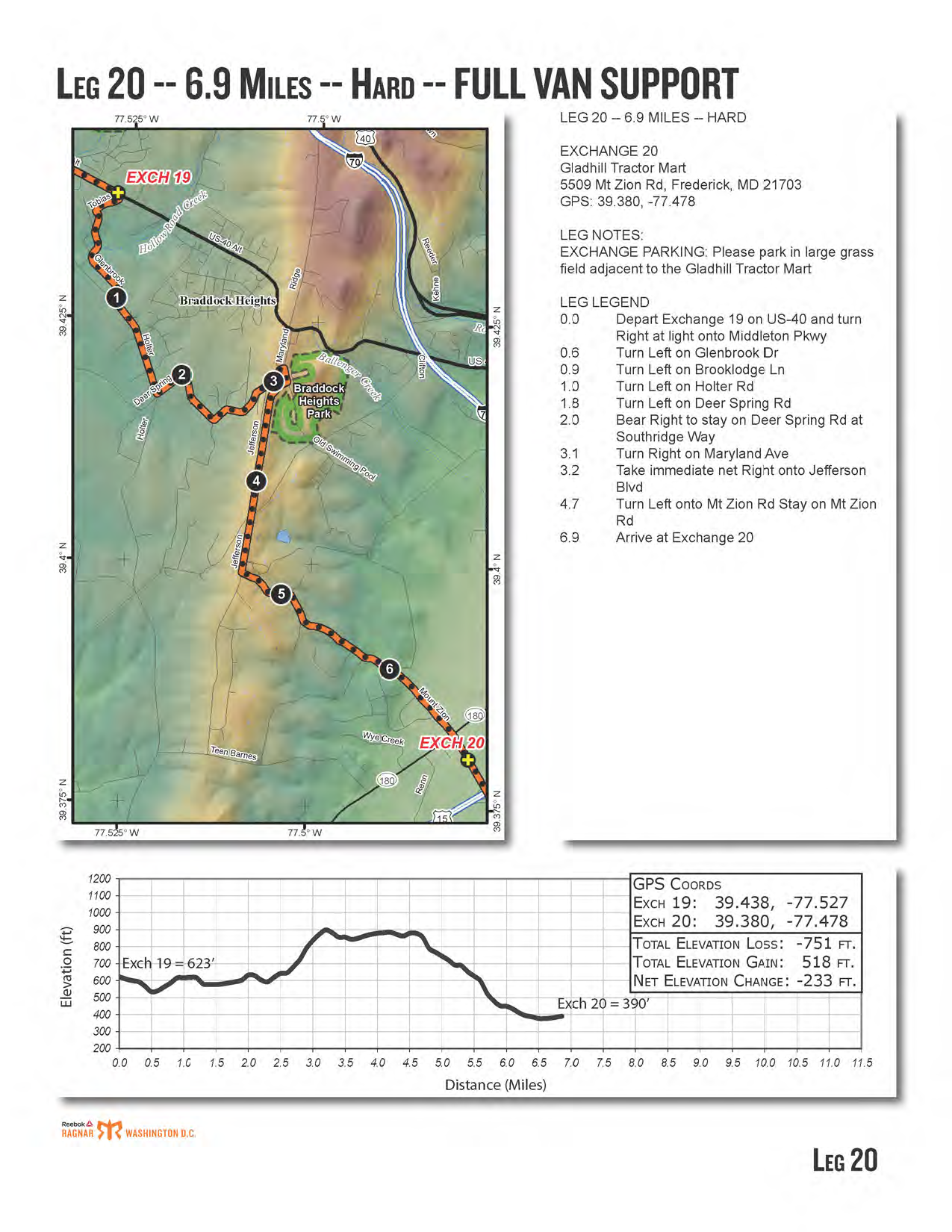 Another hard leg, but thankfully not as difficult as my first one. Of course there was another killer uphill, but I'm extremely grateful that my team waited for me at the top with some water! There was one lady on the course who handed out oranges during my run which was a nice treat! The stars were absolutely breathtaking that night. I kept gazing up in awe at the sparkling stars above me. It's a whole different world out there at that time of night. Just running through the Maryland countryside in the dead of night with not a soul in sight. I attempted to drown out the eerie silence with some music and continued to run enjoying the starry night. My headlamp did me well out there!
After my run I was quite pooped. I attempted to lay down in the van, but it was very impossible for me to get any rest. We had to keep moving to follow our team. Pictured above is one of my teammates as she ran past somewhere in Maryland. I love capturing road shots like these!
After everyone in our van finished their 2nd leg, we stopped at an IHOP to get some food. I was dying of hunger and craving some real food! Snacking in the van just wasn't cutting it, but I had to be careful not to stuff myself just yet knowing I had to run again soon.
We ran into some of our team at one of the exchange points and took a group photo. We had a bit of a mishap during my last leg. My teammate before me was supposed to run an easy 2 miles for his last leg, but accidently ran my hard leg of 6.90 miles! Oops! It all ended up working out though. One of our teammates got sick and was not able to run her last leg, so I volunteered to take it.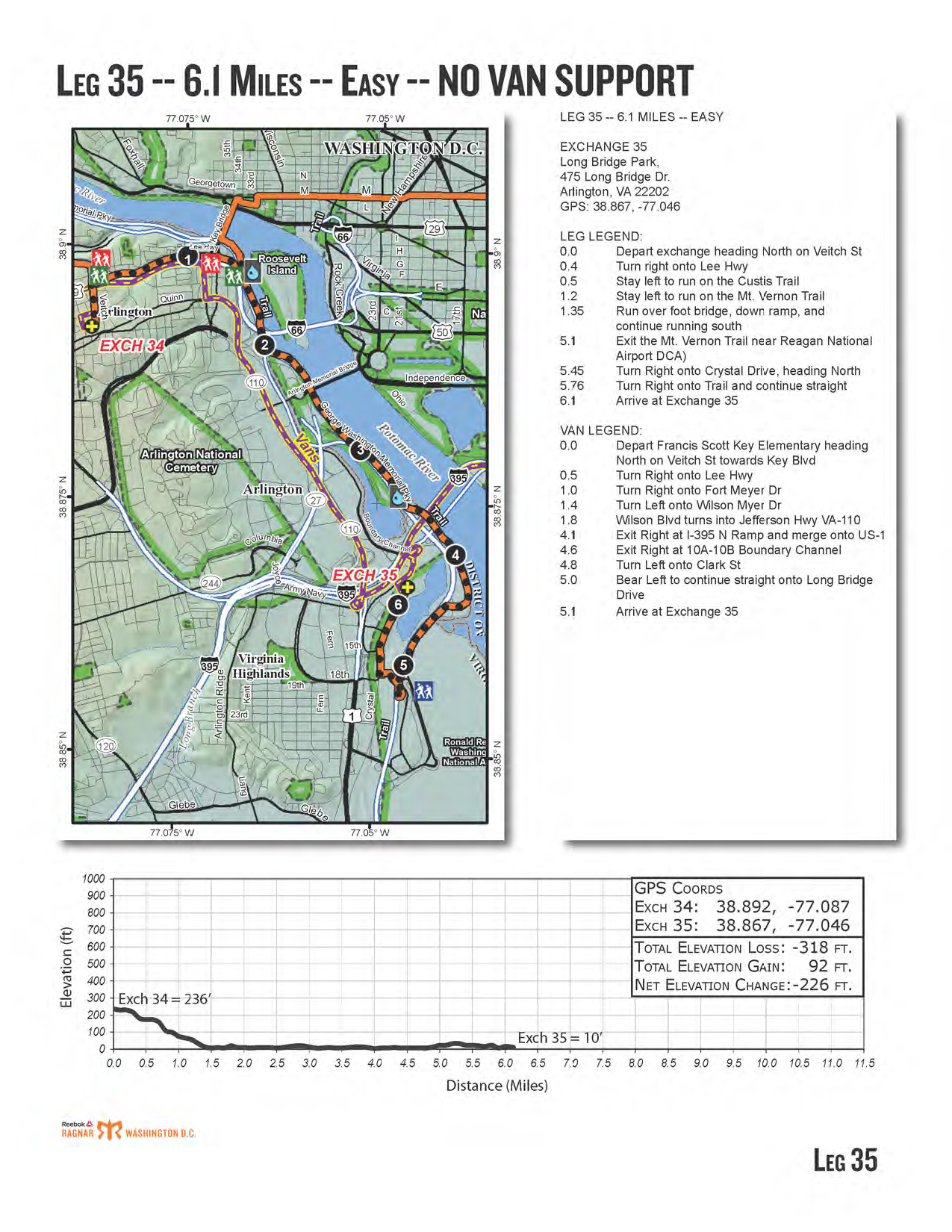 My last leg ended up being an easy one along part of the Mount Vernon trail. I have biked through here before so it was a very familiar setting. It was neat running past the airplanes landing and taking off at Ronald Reagan International Airport! The only thing I disliked was that this trail was swarming with people so I had to be careful, especially with those bikers!
Now this leg was very weird for me. When I say weird I mean everything was growing and shrinking as I was running (I'm being so serious!). I would try and focus on one spot, but everything would just keep moving! One of the bridges I ran across was the absolute worst with the amount of lines I was seeing. It was starting to make me dizzy! I had never experienced anything like this before and felt as if I was hallucinating. I figured the lack of sleep and eating was finally catching up to me. I could not believe that I was finally experiencing the hallucinations of an ultra runner.
As I finished my leg, I knew I was not done running just yet. Since my teammate accidentally ran my hard leg, I wanted to go back to make up his missed leg. Unfortunately we were not able to go back to the exact location, but my team dropped me off a few miles before the finish in DC to tackle on those extra miles. My team was tracking our last runner with map my run and our timing could not have been more impeccable as I was able to catch him as he ran by. Running in DC was by far the worst leg to run and was my least favorite out of them all. There were so many street crossings and I almost got hit by a car a few times! (Curse DC drivers!) It was a very dangerous route and I was very much looking forward to the end.
When I started nearing the end the rest of my team was waiting for me and we then all proceeded to finish together as a team!
All 200+ miles done! 🙂
Love how our medals connected together as a team!
200ish miles! 8)
Post race pizza never tasted so good! My body was dying for calories after the 24+ miles of running!
I was the only one on my team to get another medal called the Mud Slinger Medal for running both Ragnar Trail Appalachians West Virginia and DC!
Overall Ragnar was an amazing experience that I definitely recommend to those fellow crazy runners out there! Two full days of running and no sleep to conquer 200+ miles as team is an experience I will never forget and quite the epic accomplishment if I do say so myself! I can't thank my team enough for supporting me along the way! Thank you Team RWB for all your support! It was an honor sharing this experience with you all and I look forward to the next Ragnar Race! 🙂